Rick Stein makes an exciting steak with Guinness and oyster pie on today's Saturday Kitchen live.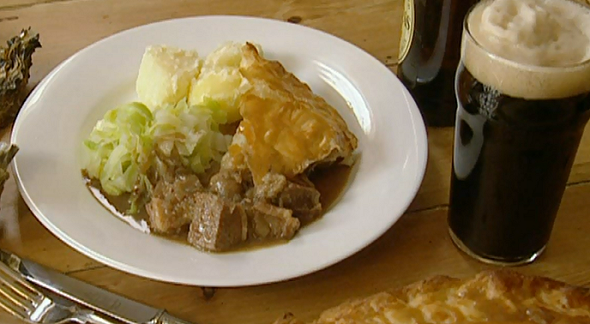 To make his pie Rick seasons pieces of steak with salt and pepper, then tossed in flour before frying in oil in a large saucepan to brown the meat until well coloured on all sides.
He then adds another tbsp of the oil, butter and mushrooms to the pan and fry briefly. He stirs in the reserved flour, then gradually add the Guinness and stock and brought to the boil.
He returns the beef and mushrooms to the pan with the thyme, bay leaves, Worcestershire sauce, ¾ tsp of salt and some pepper, then cover and simmer for 1½ hours, until the meat is just tender.
Rick then lifts the meat, mushrooms and onions out of the liquid and put into a deep pie dish. He brings the liquid to the boil and boils rapidly until reduced before pouring into the pie dish.
Rick preheated his oven to 200C/400F/Gas 6.
He then releases the oyster from their shell and adds them to the pie dish and push them well down into the sauce.
He rolls out the pastry on a lightly floured surface then covers his pie. He brushes it with a little beaten egg and pressed it on to the rim of the dish. It is then chilled for 20 minutes to relax the pastry.
Finally, he brushes the top of the pie with beaten egg and bake for 30 to 35 minutes, until the pastry is crisp and golden and the filling is bubbling hot.