Rick Stein served up fish tacos with deep fried Cornish cod, avocado, mayonnaise and a pico de gallo salsa on Rick Stein's Road To Mexico.
The ingredients for the chipotle crema: 2 chipotles en adobo, finely chopped, 3 tbsp mayonnaise, 3 tbsp soured cream, ½ lime, juice only, flaked sea salt and freshly ground black pepper.
For the pico de gallo salsa, 2 large ripe tomatoes, deseeded and finely chopped, ½ onion, finely chopped, handful fresh coriander, roughly chopped, 1 green serrano or jalapeno chilli, finely chopped and 1 lime, juice only.
For the batter: 1 litre pints corn or vegetable oil, 300g plain flour, ½ tsp baking powder, 275ml ice-cold lager and 600g cod fillet, preferable Icelandic, cut into 1cm pieces.
To serve: 12 corn tortillas, ½ small white cabbage, finely shredded, 1 avocado, diced and hot chilli sauce.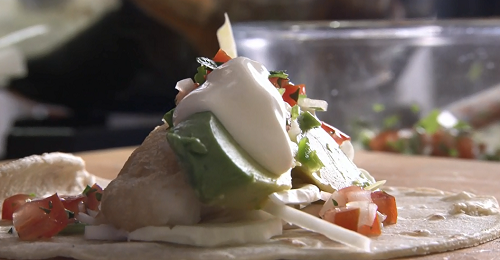 See all of Rick's Mexican inspired recipes in his book titled: Rick Stein: The Road to Mexico (TV Tie in)
, available from Amazon
now.