Ben Tish makes Spanish-style glazed duck festive canapé that can be prepared ahead and cooked to order for guests.
Ben, a classical trained chef has established himself as cooking at the forefront of modern Spanish/Italian tapas style cuisine. Today, he shares some of his knowledge showing how he makes his glazed duck, spiced quince and pancetta pinchos.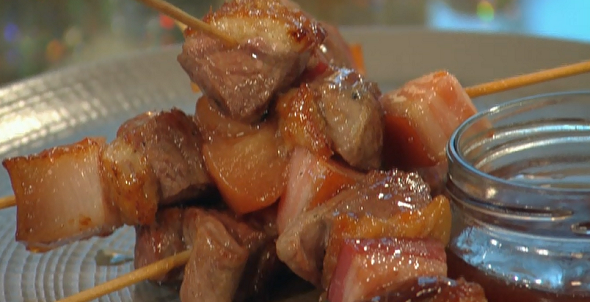 His ingredients for the poached quince consists of: 1 quince, 200g caster sugar, 1 star anise, 2 cloves, 1 cinnamon stick, 1 bay leaf, ¼ orange, zest only and 100g membrillo (quince paste).
For the pinchos he used: 8 wooden skewers, soaked in water for a few hours, 2 small duck breasts, rimmed, 60g smoked pancetta, olive oil, salt and pepper for seasoning.