Gino D'Acampo serves up another delicious Christmas treat on Let's Do Christmas with Gino and Mel.
The Italian chef makes a mouthwatering Christmas pudding soufflé to grace any Christmas dinner table.
To make his soufflé, Gino heats the 200ml of milk in a small pan. In a large bowl he whisks 3 egg yolks, then added 30g caster sugar, followed by 15g plain flour and whisked all the ingredients together.
Gino slowly pours in the warm milk on to the yolk paste and continued to whisk.
He then puts the ingredients in a pan and whisk over a gentle heat for 2 minutes until thickened and smooth. He beats in the orange zest and then transfers everything to a large bowl and left to cool.
After cooling he beats the pastry cream base to loosen the mixture before crumbling a Christmas pudding into it. He then mixed in the pudding thoroughly to form the Christmas pudding base.
In a clean mixing bowl he whisks the egg whites with a squeeze of lemon juice until they form soft peaks. He then gradually whisks in the 50g sugar to form a glossy, stiff meringue.
Gino beats a third of the meringue mixture into the Christmas pudding base, then gently fold in the rest of the meringue. He spoons the soufflé mixture into each ramekin he prepared by (brushing the insides of 4 x 200ml ramekins with softened butter in upward strokes. Then sprinkling a little sugar over the butter, shaking out the excess, and chilling it to set). He fills the ramekin right to the top.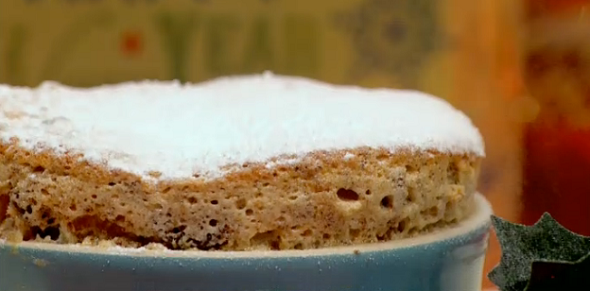 He places on a baking sheet and cooked for 12 minutes at 190C, until well risen and golden with a slightly wobbly center. When baked he removes the soufflés from the oven and dust with icing sugar.