Nisha Katona serve up a chicken bunny chow South African curry on Sunday Brunch.
The ingredients are: 2 small white onions finely diced, 2 tbsp garlic ginger puree, 4 tbsp veg oil, 2 tbsp garam masala, 1 tsp cinnamon powder, 2 whole star anise, 1 tsp turmeric powder, 2 tsp chili powder, 1 tin chopped tomatoes, 2 large chicken breasts diced, water to loosen, 1 tbsp sugar, salt to taste, 8 tinned prunes stoned, pomegranate and shredded ginger to garnish and 1 small white bloomer unsliced.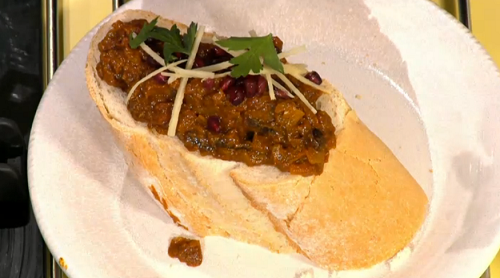 The recipe is taken from Nisha's new book titled: The Spice Tree
, available from Amazon
now.