Today on Let's Do Christmas with Gino and Mel, Gino shows how to make a Christmas cake in the last minutes just before the festive day.
To make his cake, Gino mixed 1 jar of mincemeat, dried figs, glace cherries, 170g mixed dried fruit, and candied peel with whisky in a bowl and covered and left overnight.
He then creamed butter and sugar then add the eggs and beat in a bowl. He adds flour, baking powder, cinnamon and salt into the bowl and whisk until smooth and fluffy.
he folds in the fruit mixture, nuts and zest and spoon into a loose bottomed tin and baked in the oven at 160c for 1 hour until the cake is baked.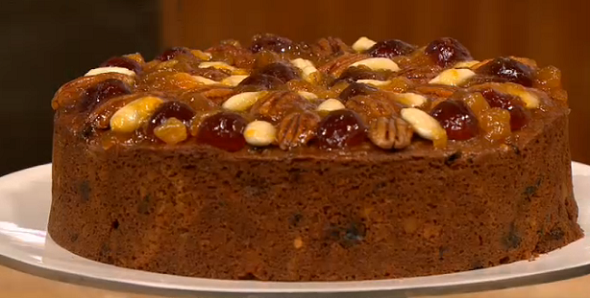 Gino finishes by heating some whisky and jam together, then arranged fruit and nuts over the top of the cake once it has been left to cool. He then pours over the glaze and left covered until ready to serve.