Nigel Barden served up Turkey schnitzel with lemon and caper butter using a recipe by Tom Kerridge on Radio 2 Drivetime.
The ingredients are: 2 free-range skinless turkey breast fillets (about 200g each), 100ml buttermilk, 40g Parmesan cheese, grated, 30g dried onion flakes, 30g coconut flour, 20g sesame seeds, 2 free-range egg yolks, 40ml milk, vegetable oil, for cooking, 100g unsalted butter, finely grated zest of 1 lemon, plus some of the juice, 2 tbsp capers, 2 tbsp chopped parsley, 2 free-range duck eggs (or you can use 2 large hens' eggs), 4 anchovy fillets in oil, drained, Sea salt and freshly ground black pepper.
To serve (optional): Gherkins, green pickled chillies and marinated artichokes.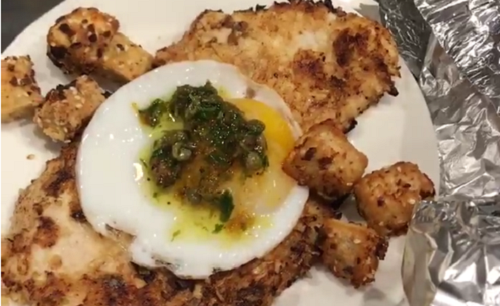 The recipe is taken from Tom Kerridge book titled: Tom Kerridge's Dopamine Diet: My low-carb, stay-happy way to lose weight
available from Amazon
now.