Alex Hollywood – the wife of Paul Hollywood – served up chicken and prawn jambalaya on This Morning.
The ingredients for the cajun spice mix: 2 tsp paprika, ½ tsp cayenne pepper, 1 tsp garlic powder, 2 tsp dried thyme, 2 tsp dried oregano, ½ tsp ground cumin, ½ tsp ground pepper and ½ tsp salt.
For the chicken and prawn Jambalaya: 1 tbsp olive oil, 1 onion, chopped, 2 peppers (any colour), deseeded and diced, 150g cooking chorizo, sliced, 2 garlic cloves, chopped, 2 celery stalks, diced, 2 tsp Cajun Spice Mix (see above), 1 tbsp tomato puree, 200g Arborio risotto rice, or long grain rice, about 500ml chicken stock, 200g cooked chicken, 200g cooked prawns, 30g butter, a squeeze of lemon and Salt and freshly ground black pepper.
To garnish: A pinch of sweet smoked paprika and 4 spring onions, sliced.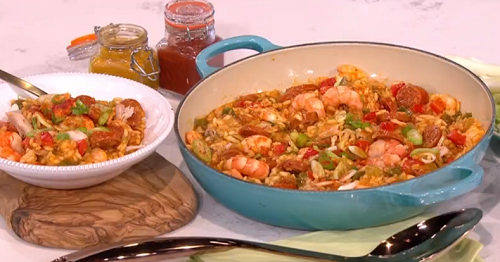 The recipe is taken from Alex's new book titled: Alex Hollywood: Cooking Tonight: Simple recipes to put the joy back into weekday suppers
available from Amazon
now.