Gino served up tasty polenta-crusted agoni fish with a tomato and basil salad on Gino's Italian Escape: Hidden Italy.
Gino says: "If you can's get agoni fish then any oily fish like mackerel will do".
The ingredients are: 2 garlic cloves, peeled, Small handful (about 25g) fresh basil leaves, 1 unwaxed lemon, 75ml extra virgin olive oil, 600g fresh mixed cherry or Heirloom tomatoes, halved or quartered, 2 large eggs, 100g fine polenta, 8 fresh mackerel fillets, 150ml vegetable oil and Salt and freshly ground black pepper.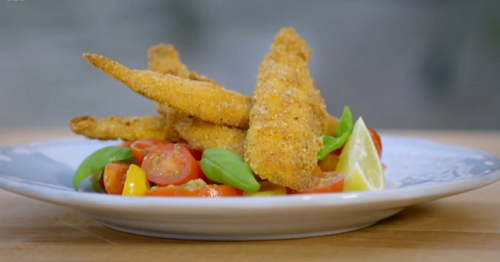 The recipe is taken from Gino's book titled: Gino's Hidden Italy: How to cook like a true Italian
– available from Amazon
.