Paul went in search of Marmalade for his next dish and commissioned a leading marmalade maker to develop a new flavour on today's Pies and Puds.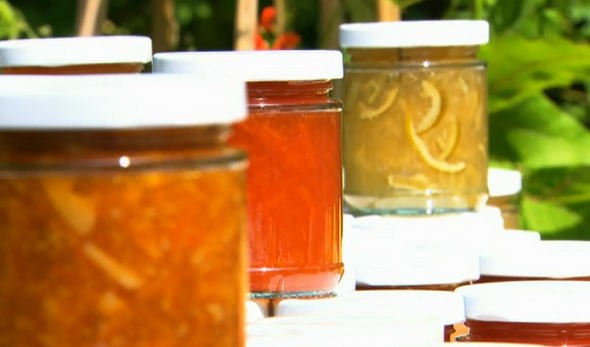 Have met cake designer Peggy Porschen who used eatable flowers on her cakes, Paul drew inspiration for his flowers based marmalade and almond cake.
But for his marmalade, Paul took a trip to north Devon to visit award winning marmalade specialist Victoria Cranfield to set her the challenge of developing a new marmalade flavour that would complement his marmalade and almond cake.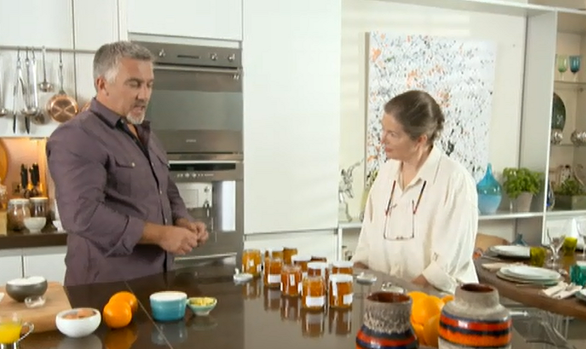 Marmalade is a fruit preserve made from the juice and peel of citrus fruits boiled with sugar and water. It can be produced from a variety of citrus fruits. But it is the combination of the fruits that lead to the different flavours because there is little variation in the process for making the preserve.
After a lot of hard work, Victoria came up with a variety of flavours for Paul to try. However, the master baker did not settle for one flavour for is cake, but two. He chose to use a orange and apricot marmalade in the cake and orange and jasmine flavour in his cake topping.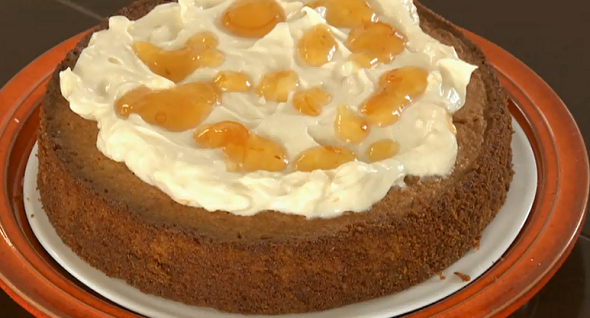 This delicious looking treat is best served chilled so that the cream cheese icing is stiff and clod, then drizzle with marmalade just before eating.