For the technical challenge this week, Mary Berry tasked the remaining contests who made it to the quarter finals, to another French classic bake, the Hazelunt Dacquoise.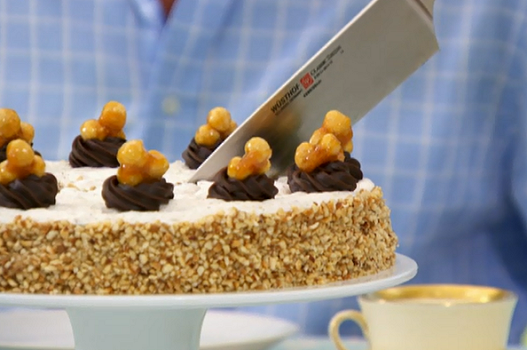 The Hazelnut Dacquoise is an ideal cake for people who need a gluten free desert. The Dacquoise gets its name from a small town in South West France and is a very popular desert in the country.
It has three layers of meringue with hazelnuts in the merging mixture, but the Hazelnuts really needs too be a precise bake because if it gets too dark the flavour will be bitter. If chopped to finely it will make the Meringue runny due to the excess oil that will be released. Coffee custard forms the base of the crème mousseline.
Baking Tips
The Meringue must be taken out of the oven and be aloud to cool before the Dacquoise is assembled.
The coffee custard must be allowed to cool completely before adding the wiped cream.
Sugar needs to be melted until it just caramelizes, before adding hazelnuts and lemon juice.
Each praline cluster should have three caramelised nuts and each Dacquoise should have 12 clusters.
The Contestants attempt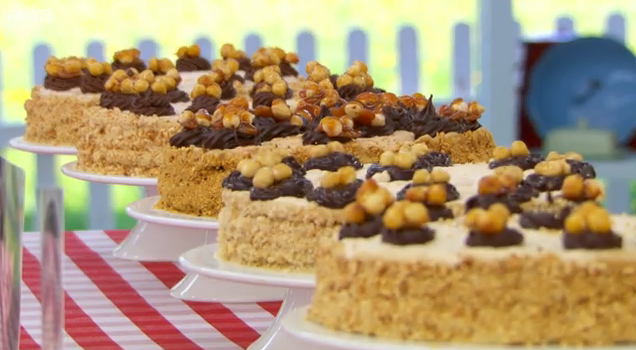 The contestants did not do badly at all with this technical challenge, producing very fine looking bakes. In the end it was Ruby how Paul and Mary crowned the Hazelnut Dacquoise champion.
Hazelnut Dacquoise Ingredients and Baking Method
This link is not Mary's recipe but it is a very close approximation.