Katie Hopkins is on her soapbox again, this time over Children's birthdays.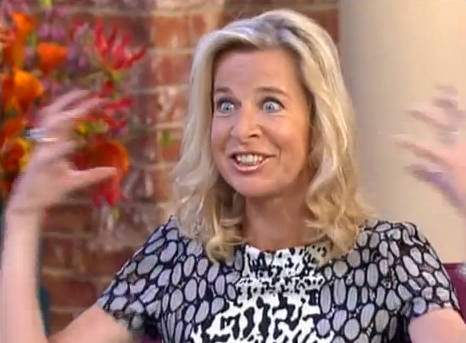 The former Apprentice candidate returned to the ITV This Morning studios and made Holly Willoughby hide in horror and threatened to sit on Phillip Schofield as she insults Netmums, defends her position on children's names and now she says it is fine for parents to miss their children's birthdays.
Katie who sparked controversy over children's names on her last appearance on the show, says she stands by her ever word; She would not retract a thing.
She said she finds it "quite fun that people shout out loud down the street", Hopkins also claimed to have received support from members of the public on her remarks.
"Then there's the Holly school of thought that's not so pro," Hopkins commented, to which Holly Willoughby replied: "Not really, but I said my piece on that last time."
However, when Hopkins took a pop at  Netmums, describing them as a "rather boring… mammary militia", Willoughby gasp, hid behind her notes and sink into the sofa.
The Apprentice star then made her case that work takes priority over her three children, describing birthdays as "rather like trains, there'll be another one".
Responding to Hopkins's claims that her children recognise she needs to work "in order to have nice things", Willoughby accused her of being "emotionally defunct" and "forcing [them] to make grown-up choices".
When Schofield referenced Hopkins's 9-year-old daughter India, she angrily told him: "Do not bring India up again Phillip or I will sit on your lap."
He replied: "That's possibly the worst thing I've ever heard of all that you've said."
See the full interview here: