It was food glorious food on The Apprentice tonight as the candidates set out to create a new ready meal for the market.
Lord Sugar set the candidates the task of cooking and branding a new ready meal and then to pitch it to supermarket chains and an online retailer to see who would receive the most orders for their product.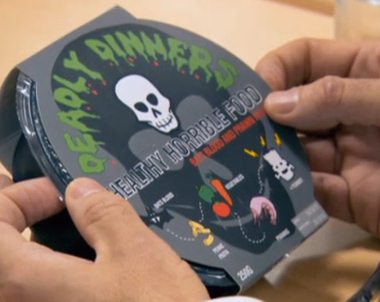 Team Evolve came up with Oh My Pow, a ready meal aimed at young people with a fusion of Caribbean and Thai ingredients. Endeavour came up with Deadly Dinners, a ready meal aimed at children.
For Evolve's Oh My Pow, Ocado placed 300 orders, Morrisons placed no orders and Asda placed 2,500 orders, bringing their total to 2,800 orders placed.
For Endeavour's Deadly Dinners, Ocado placed 1,000 orders, Morrisons placed no orders and Asda also placed no orders, bringing their total to 1,000 orders placed.
For winning the task Evolve was treated by Lord Sugar to a spin round Bedford Autodrome in a Ferarri.
Back in the boardroom, after discussing what led to the failure of the task, Alex decides to bring Myles and Leah back to face Lord Sugar.
After the usual blame game, Lord Sugar delivered his verdict: "Alex, you should have stuck to your guns on this thing here. But I do admire your enthusiasm. And you're very, very young, and I have to say, that for someone as young as you, you are someone to be admired.
"Leah, you've spoken up in these last few moments, I see a different person there. I don't want to hear any more from you now – I mean, here you're rattling off like an AK-47 machine gun now. You've spoken more in the last ten minutes than you have in the last nine weeks.
"Myles, the fatal error is you got your customer wrong. But Alex, I think you're a young, enthusiastic chap, and I want to send you off with a bit of advice: try and stick to something, right, and you're going to succeed. But at the moment Alex, it is with regret, that you're fired."
Lord Sugar has a word of warning for Myles and Leah: "Myles, some people looking in on this may think you've got away with murder there. It's my 45 years in business that tells me you deserve to stay in this competition. Having said that, it's getting very tough, very competitive now. This leniency won't be around any more. And the same applies to you Leah."