Gino makes warm pears and blue cheese salad recipe on Let's Do Lunch that is an ideal dish for a summer lunch.
The ingredients are: 1 pear, 25g unsalted butter, 2 sprigs rosemary, 1 tbsp runny honey, 5-6 walnut halves, 1 large handful of salad leaves and 3 radishes finely sliced.
For the dressing: 2tbsp low fat yogurt, 50g gorgonzola, really soft, 1 tbsp chopped chives, 2 tbsp olive oil and 1 tsp white wine vinegar.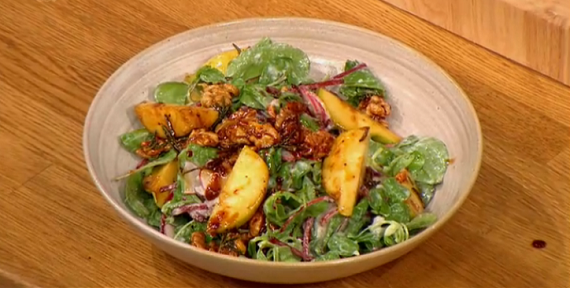 To prepare the dish, heat a frying pan on a high heat.
Cut the pear into 8 wedges, leaving the skin on but removing the core.
Place the butter in the frying pan and once foaming, add the pears and rosemary. Cook for 2 minutes allowing them to take on a little colour then add in the honey. Bubble gently for a further minute or until al dente.
Make the blue cheese dressing by mixing together all the ingredients in a bowl, adding a little warm water to loosen if needs be. This will depend on how ripe your cheese is.
Place the salad leaves and radishes in a bowl and drizzle over a little of the dressing.
Place the dressed leaves on a plate then add the roughly chopped walnuts and finally the warm pears. Serve with a little more dressing.