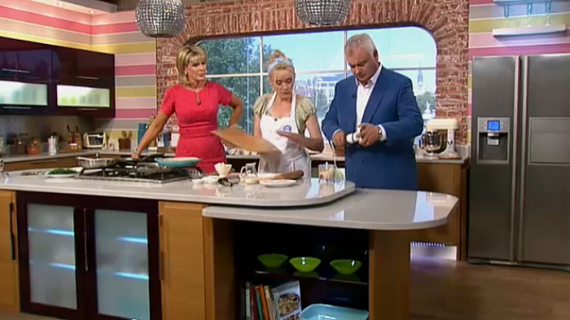 2014 MasterChef winner Sophie Thompson cooks her winning main course of brill with a red pepper crust and chive sauce on This Morning.
After six gruelling weeks, the 52-year-old actress was awarded her trophy by judges John Torode and Gregg Wallace.
The ingredients are: Red pepper crust: 1 large red pepper, Garlic, 25g dry white breadcrumbs, 25g Parmesan cheese and 25g butter.
Chive Sauce: 50ml white wine, 50ml wine vinegar, 50 ml whipping cream, 100g chilled butter and 2tbsp chives.
Brill: Olive oil and 2 fillets of brill skinned and boned.
Accompaniments: Samphire, 5 spice powder and Chorizo to make chorizo oil for plate.