Gino D'acampo cooks sticky pork with sweet corn homemade coleslaw on Let's Do Lunch.
The ingredients are: 450g Pork belly slices, large diced, 3-4 tbsp tomato ketchup, A dash of Tabasco, A dash of Worcester sauce, 1 tbsp honey, 1 tsp English mustard, I clove of garlic, crushed, 330ml Cola, 100ml chicken stock, 400g tin of mixed beans, drained and 400g tinned kidney beans, drained.
For the coleslaw: 1⁄2 medium white cabbage, finely shredded, 1 white onion, sliced, 2 medium carrots , salt and pepper, 1 tbsp white wine vinegar, 5 tbsp good mayonnaise and 2 Tbsp parsley, chopped.
For the chilli corn: 4 pieces of corn on the cob, 30g butter and 1 red chilli finely diced.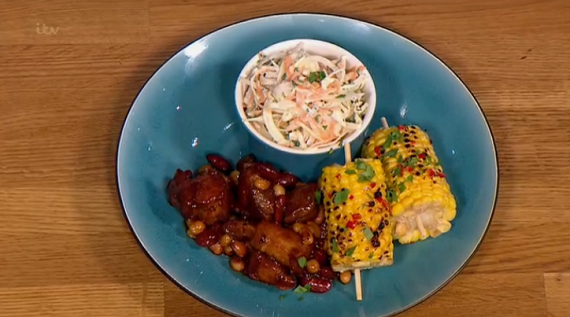 To prepare the pork, heat 1 tbsp oil in a large pan and fry the pork for 10 minutes until well caramelised all over. Drain off the excess fat if needed.
Add the tomato ketchup, tabasco, worcester sauce, honey and mustard, Cola and stock and simmer for about an hour until the sauce is reducing and turning sticky. Tip in the beans and heat through.
Mix all the coleslaw ingredients together in a large bowl and serve with the sticky pork and beans.
Bring a pan of water to the boil then blanch the corn for 2 minutes, then drain.
Heat a griddle pan on a high heat.
Mix together the butter and chilli. Griddle the corn for a couple of minutes until charred then remove from the heat and brush with the chilli butter. Serve the pork with the slaw and chilli corn.