Dr Rupy served up a tasty and speedy vegetable pad Thai with rice noodles that can be made in just 10 minutes on This Morning.
The ingredients are: 80-100g rice noodles, 1 tbsp sesame oil, 1 white onion (160g), chopped, 1 garlic clove, grated, 160 g red peppers, sliced, 160 g carrots, julienned, 160 g beansprouts, 1 egg, beaten, 30 g peanuts, chopped, 10 g fresh coriander, to finish, 2 spring onions, chopped and ½ lime.
For the pad Thai sauce: 1-2 tbsp tamarind paste, 10 ml vegetable stock, 2 tbsp dark soy sauce, ½ tsp chilli flakes and 2-3 tbsp brown sugar.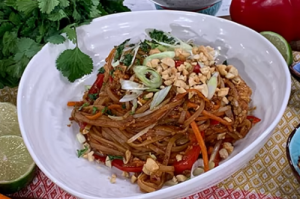 See recipes by Dr. Rupy in his book titled: Doctor's Kitchen 3-2-1: 3 fruit and veg, 2 servings, 1 pan available from Amazon now.