Raymond Blanc served up a tasty crab salad with pink grapefruit jelly and brown crab mayonnaise on Simply Raymond Blanc.
The ingredients for the crab salad are: 125g white crab meat, fresh, 50g brown crab meat, fresh and chopped slightly, 35g yogurt, natural, 1 sprig coriander, chopped, 1 tsp lime juice, 1 tsp lime, zested, 2 pinches salt, to taste, 1 pinch cayenne pepper.
For the brown crab mayonnaise: 75g brown crab meat, 20ml lemon juice, 10g Dijon mustard, 70ml sunflower oil, 20ml olive oil, extra virgin, ½ pinch cayenne, pepper, 2 pinches and sea salt.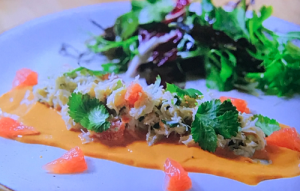 See recipes by Raymond in his book titled: Simply Raymond: Recipes from Home – INCLUDING RECIPES FROM THE ITV SERIES
available from Amazon
now.