Gino served up a classic carbonara with Bucatini pasta, guanciale/pancetta and egg yolks in an Italian pasta masterclass on This Morning.
The ingredients are: 220g Bucatini pasta, 100g guanciale (or pancetta if you can't find this), 60g freshly grated Pecorino Romano, plus extra for sprinkling , 5 fresh egg yolks and ½ teaspoon freshly ground black pepper.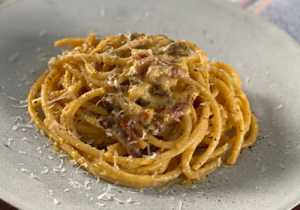 See recipes by Gino in his book titled: Gino's Italian Family Adventure: All of the Recipes from the New ITV Series available from Amazon now.