Freddy and Tristan Forster served up tasty chocolate with beetroot muffins on Steph's Packed Lunch.
The ingredients are: 120g self-raising flour, 60g coco powder, 1tsp baking powder, 170g caster sugar, 170g cooked beetroot, grated, 2 large free-range eggs, 140ml rapeseed oil and 1tsp vanilla extract or bean paste.
For the chocolate frosting: 75g unsalted butter, softened, 200g full fat cream cheese, 400g icing sugar and 50g coco powder.
To serve: Sprinkles.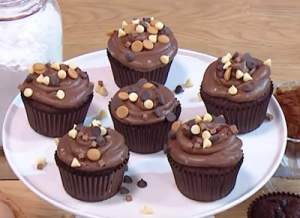 See more muffin recipes in the book titled: Muffin Recipes: Healthy And Basic Muffin That Kid Can Make: Easy Muffin Recipe For Kids available from Amazon now.