Nancy Birtwhistle served up delicious naughty but nice luxury mince pies with dried apricots, cranberries and dark chocolate chips on Steph's Packed Lunch.
The ingredients are: 300g Mixed fruit and peel, 100g Ready to eat apricots (chopped into raisin sized pieces), 100g Dried cranberries, 200g Soft brown sugar, 1/2tsp Ground mace or grated nutmeg, 1 tsp Ground Cinnamon, 2 tsp Ground Mixed Spice, Finely grated zest of 1 orange and 1 lemon, 6 tbsp Cointreau/Brandy/Port or a mixture ! 6 Cardammon pods split and the seeds crushed, 8 tbsp. orange/lemon juice from the fruits, 50g Butter and 15g Chocolate Chips Dark.
For the pastry: 11oz Plain flour, Pinch salt, 6oz Butter (chilled and cut into cubes), 1 egg yolk mixed with 5 tbsp water and 1 oz Icing Sugar.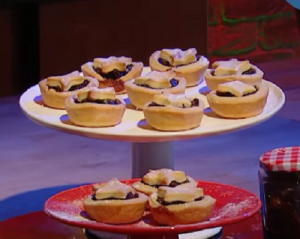 See more festive recipes in the book titled: Great British Bake Off: Christmas available from Amazon now.