Hugh Fearnley-Whittingstall served up delicious Christmas tiffin with dark chocolate, toasted oats, seeds, River cottage cider, blackberry whiskey and persevered ginger on This Morning.
The ingredients are: 100g dried sour cherries (or dried cranberries or sultanas), 1 tbsp Rumtopf liquor, cherry vodka or brandy, 75g jumbo oats, 50g whole hazelnuts, roughly chopped, 40g sunflower seeds, 35g pumpkin seeds, 50g coconut oil, 150g plain chocolate (at least 75% cocoa solids), broken up and 2 pieces of preserved stem ginger, plus 1 tbsp syrup from the jar.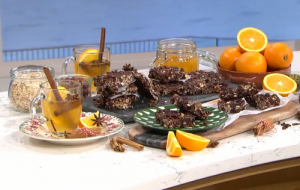 See recipes by Hugh in his book titled: Christmas at River Cottage available from Amazon now.