Jessie and Lennie Ware served up a tasty chicken soup with matzo balls on Sunday Brunch.
The ingredients for the Chicken Soup: 2kg chicken thighs and legs, 5 large onions, skins left on, halved, cutting off the rooty bit, 8 carrots, sliced about 2–3cm thick, 4 celery sticks, with leaves, halved, 1 leek, halved, ½ swede, 2 tbsp Telma Chicken Soup Mix (available from a kosher shop or online), or 2 good quality chicken stock cubes, 1 tsp whole black peppercorns and 1 tsp salt.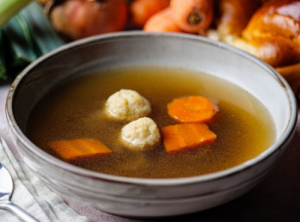 See recipes by Jessie and Lennie in the book titled: Table Manners: The Cookbook available from Amazon now.