Aida Khan served up a tasty Pakistani prawn curry with tarka and nigella seeds on Lorraine.
Ingredients for the curry base: 500g fresh tomatoes, chopped, 400g tinned tomatoes, 400g passata (sieved tomatoes), 2 tsp garlic paste, 1 tsp ginger paste, ½ tsp dried red chilli flakes, ½ tsp turmeric, 1 tsp salt, 1 tsp ground coriander, 200g roughly chopped coriander leaves and 1 small green chilli, chopped.
For the prawns: 800g raw king prawns, peeled and deveined, 1 tsp garlic paste and 1 tsp ginger paste.
For the Tarka: 200ml sunflower oil, 3-4 garlic cloves, thinly sliced, 1 tsp nigella seeds, 15-20 curry leaves (approximately) and 2 dried round red chillies (or use long dried red chillies).
To serve: Basmati rice, sliced onions fried until golden brown, extra coriander sprigs.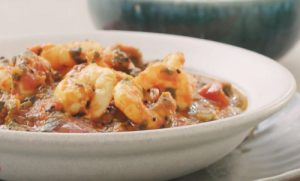 See more Pakistani recipes in the book tiled: Enjoy Pakistani Cuisine with a Simple Cookbook: Learn how to cook the best traditional Pakistani Recipes available from Amazon now.