Paul Hollywood showcased a large baklava with filo pastry and a pistachio and walnut filling for today's technical challenge on The Great British Bake Off.
The ingredients for the filo pastry: 500g plain flour, 2 tsp baking powder, ¼ tsp salt, 2 eggs, 170g full-fat Greek yogurt, 90ml vegetable oil, 50g unsalted butter, melted, plus extra for greasing,
1 tbsp white wine vinegar and 200g cornflour, for sprinkling.
For the syrup: 135g caster sugar, 300g runny honey, 1 large unwaxed lemon, sliced and 1 tbsp rosewater.
For the filling: 350g walnuts, finely chopped, 350g pistachios, finely chopped, 50g caster sugar, 1 tbsp ground cinnamon and 1 tbsp ground cardamom.
To assemble: 400g salted butter, melted.
To decorate: 75g pistachios, finely ground and 2 tsp edible dried rose petals.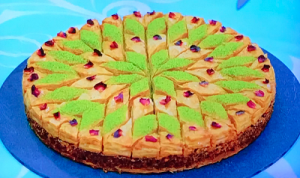 See recipes by Paul in the book titled: A Baker's Life: 100 fantastic recipes, from childhood bakes to five-star excellence
, available from Amazon
now.