Gok Wan served up tasty vegan mushrooms with black beans and chilli stir fry for a Friday cookalong on This Morning.
The ingredients are: 1 tbsp groundnut oil, for frying , Assorted mushrooms (for eg. 100g enoki, 75g shiitake, 75g oyster, 1 large king etc), 1 green pepper, cut into big chunks, 1 medium onion, cut into big chunks, 1 carrot, cut into diagonal slices , 3 cloves of grated garlic , 1 fat red chilli, deseeded and diced , 1cm ginger, grated, 2 heaped tbsp fermented black beans (pre soaked in warm water), 2.5 tbsp light soy, 3 tbsp dark soy, 1 tbsp sugar , 1 cup of water or vegetable stock , cornflour mixed in water, to thicken , Salt and white pepper, Dash of sesame oil.
To serve: White rice and Spring onions for garnish.
Gok's tip: Fermented soya beans can be found online at most online supermarkets, soya beans are fermented with salt, soak in warm water for 2 minutes before cooking and then drain. This takes away the excess saltiness.
You can substitute the mushrooms for any protein, fried tofu or meat replacement product.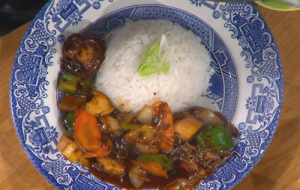 See recipes by Gok in his book titled: Gok's Wok available from Amazon now.