The Bikers makes one pot partridge with cabbage, bacon and chestnuts on the Hairy Bikers' Best Of British.
The Bikers say about their dish: "A long slow braise on the hob ensures your partridges will be tender and succulent. Serve with creamy mashed potatoes."
The ingredients for the dish are: 1 tbsp juniper berries, 4 oven-ready partridges, salt and freshly ground black pepper, 25g butter, 1 tbsp sunflower oil, 1 medium onion, 4 rashers rindless streaky bacon, 3-4 bushy sprigs fresh thyme, 2 tbsp plain flour, 5 tbsp dry gin, 100ml orange juice, 200ml red wine, 350ml chicken stock, fresh or made with 1 stock cube, 2 tbsp cranberry sauce or redcurrant jelly, 2 tsp finely grated orange zest, 200g cooked and peeled chestnuts, ½ medium Savoy cabbage, tough outer leaves removed.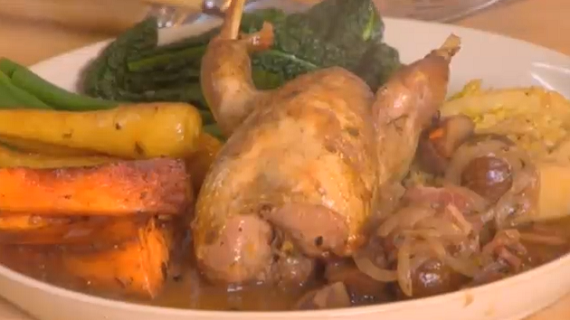 See how the Bikers perpare their dish partridge dish in this video: