Hermine from The Great British Bake Off, served up delicious raspberry sponge cake/financier on today's episode of Lorraine.
The ingredients are: 100g butter, 150g fresh raspberries, 50g caster sugar, 1 tsp lemon juice, 120g finely ground almonds, 100g icing sugar, 15g cornflour, ½ tsp salt, 3 large egg whites, 20g clear honey and 1 tsp vanilla paste, or 1 vanilla pod (seeds scraped).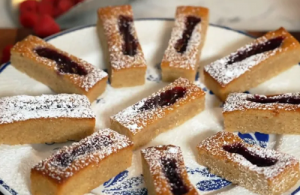 See more delicious bakes in the book titled: The Great British Bake Off: Love to Bake available from Amazon now.