John Torode and Lisa Faulkner served up a delicious coffee and walnut cake on John and Lisa Weekend Kitchen.
the ingredients for the sponge are: 200g softened butter, 200g caster sugar, 4 large eggs, 220g self-raising flour, 50g finely chopped walnut pieces and 25ml espresso or 1 tsp instant coffee mixed with 25ml of boiling water, left to cool completely.
For the buttercream: 250g butter, 500g icing sugar, 25ml espresso or 1tbsp of instant coffee (1 and a half if you like a stronger flavour) mixed with 25ml hot water, left to cool completely
For the candied walnuts : 50g walnuts, soaked in a small bowl of water for 20 minutes, 2 tbsp icing sugar and 50g water.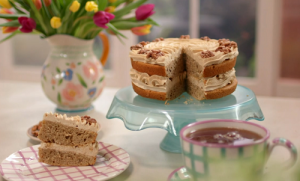 See recipes by Lisa in her book titled : Tea and Cake with Lisa Faulkner
available from Amazon
now.