Mark Birchall served up Grilled Cornish Lobster with Truffled Grains, Asparagus, Kohlrabi and a Green Tomato sauce on James Martin's Saturday Morning.
The ingredients for the green tomato sauce are: 500g Tomatoes – including trimmings, 1 Dash of Tabasco, 20g Basil, 50ml Orange Juice, Pinch of Salt, 25ml Water, 25g sugar, 25g white wine vinegar.
To finish: 500g tomato water, 50g Baby Spinach, 100g Green Tomatoes, ¼ tspn Citrus Kosho paste, 1 tbspn Tomato dashi and ¼ tspn Xanthan gum.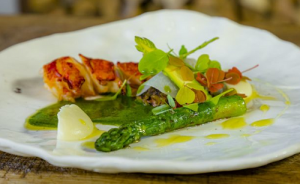 See recipes by James in his book titled: Home Comforts available from Amazon now.