Kate Humble served up tasty roasted ratatouille with courgette peppers and aubergine on Escape To The Farm.
The ingredients include: a red onion, aubergine, 2 courgettes, bell peppers, olive oil, parsley, thyme, cherry tomatoes, 1 large head of garlic, salt and pepper.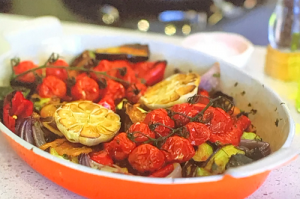 See more French style recipes in the book titled: FRENCH COOKBOOK Made Simple, at Home: The Complete Guide Around France to the Discovery of the Tastiest Traditional Recipes Such as Homemade Cassoulet, Crepes, Ratatouille and Much More available from Amazon now.
Kate's book titled: A Year of Living Simply: The joys of a life less complicated is available from Amazon now.