Kate Humble served up a tasty woodsman pasta with chestnut and porcini mushrooms and pancetta on Escape To The Farm.
The ingredients are: 300g chestnut mushrooms, pack of porcini mushrooms, oil for frying, pancetta, 1 finely chopped onion, 2 garlic cloves, thyme, 100ml white wine, 400ml passata, ground black pepper, 100g double cream, 500g pasta, parsley and grated Parmesan cheese.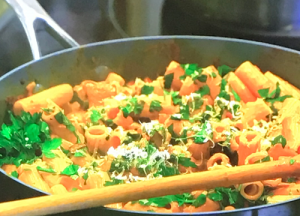 See more pasta recipes in the book titled: Ah! 365 Easy Pasta Recipes: Everything You Need in One Easy Pasta Cookbook! available from Amazon now.
Kate's book titled: A Year of Living Simply: The joys of a life less complicated is available from Amazon now.