Kate Humble served up a delicious and easy to make chocolate and marmalade cake on Escape To The Farm.
The ingredients are: 100g dark chocolate, 125g butter, 300g marmalade, 150g self raising flour, pinch of sea salt and 2 eggs.
The cake is baked at 180 degrees for 30 minutes.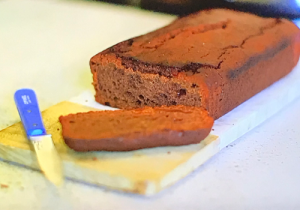 See more chocolate cake recipes in the book titled: 365 Homemade Chocolate Cake Recipes: Welcome to Chocolate Cake Cookbook available from Amazon now.