Ruby Bhogal served up a tasty chana masala chickpea curry on today's episode of Steph's Packed Lunch.
The ingredients for the base are: 1 tbsp olive oil, 1 large onion, diced, 3 garlic cloves, grated, 1 1/2 tbsp ginger, grated(approx. 15g), 2-3 green finger chillies, finely chopped, 1 tsp sea salt, plus a pinch extra, 3/4 tsp turmeric, 1 1/2 tsp garam masala, 1 bay leaf, 1 tsp dried fenugreek leaves, 5g coriander, chopped, 1 tin of plum tomatoes(approx. 400g).
For the vegetable filling: 1 tin of chickpeas (approx. 400g), 250g Maris Piper potatoes, peeled and evenly diced, 1/2 tsp onion seeds, 125-150ml water, 1 tsp tamarind sauce, good handful of coriander, chopped(approx. 10-12g).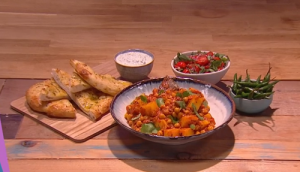 See more vegetarian curry recipes in the book titled: Fresh India: 130 Quick, Easy and Delicious Vegetarian Recipes for Every Day available from Amazon now.