Matt Tebbutt serevd up a tasty roast poussin with roasted vegetables(carrots, cabbage and fennel) and a garlic, anchovies and vinegar dressing on Saturday kitchen.
The ingredients are: For the whole roast poussin, 50g unsalted butter, softened, 2 poussins, approx. 500g each, 2 bay leaves, 1 head garlic, cut in half, 1 bunch thyme, salt and freshly ground black pepper.
For the roasted vegetables: 3 heritage carrots, cut into bite-size pieces, 3 round shallots, halved, ¼ Savoy cabbage, cut into wedges, 1 leek, cut into bite-size pieces, ½ fennel bulb, cut into bite-size pieces, dash olive oil, 1–2 tsp red wine vinegar, 2 garlic cloves, crushed and 1 tbsp thyme leaves.
For the anchoïade dressing: 2 banana shallots, roughly chopped, 50g salted anchovies, 3-4 garlic cloves, roughly chopped, 120ml olive oil, 2 tsp red wine vinegar and handful flat-leaf parsley.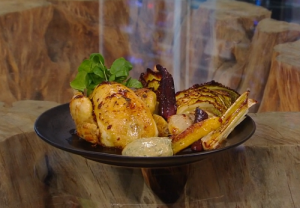 See recipes by Matt in his book titled: Matt Tebbutt's Guilty Pleasures: Your Favourite Sweet and Savoury Indulgences in 130 Easy Recipes
available from Amazon
now.