Matt Tebbutt served up deliicous coconut and ricotta pancakes with fresh blueberries, toasted coconut flakes and maple syrup on Saturday Kitchen.
The ingredients are: 300g ricotta , 4 free-range eggs, separated , 175ml coconut milk , 100g plain flour , 25g fine polenta, 1 tsp baking powder, dash of oil and a nob of butter.
To serve: 4 tbsp toasted coconut flakes, 150g fresh blueberries and 4 tbsp maple syrup.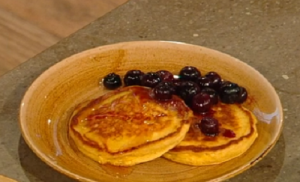 See recipes by Matt in his book titled: Matt Tebbutt's Guilty Pleasures: Your Favourite Sweet and Savoury Indulgences in 130 Easy Recipes
available from Amazon
now.