James Martin served up a tasty roast chicken with stuffing, deep fried sage leaves, hispi cabbage, port sauce and a bread sauce on James Martin's Saturday Morning.
The ingredients are: 1 1.8k Chicken, 100g cream cheese, 35g parsley leaf roughly chopped, 35g sage leaf roughly chopped, 1/2 onion peeled and 1 hispi cabbage 1/2d.
For the bread Sauce: 1 onion studded with 5 cloves and a bay leaf, 200ml full fat milk, 200ml double cream and 150g fresh white breadcrumb.
For the port sauce: 150ml port and 300ml chicken stock.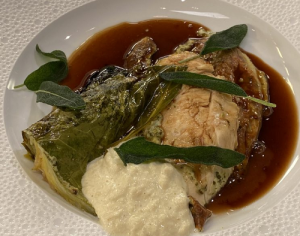 See recipes by James Martin in his book titled: More Home Comforts: 100 new recipes from the television series
, available at Amazon
now.