Nadiya Hussain served up a tasty Cajun-style catfish and okra stew with a Bangladeshi twist on Nadiya's American Adventure.
The ingredients for the Cajun spice mix: 2 tsp garlic granules, 2 tsp onion granules, 2 tsp dried oregano, 2 tsp cayenne pepper and 1 tsp ground paprika.
For the catfish gumbo: 4 catfish steaks (around 225g each), skinned, 2 onions, 1 grated and 1 finely chopped, 2 lemons, juice only, 1½ tbsp ground turmeric, 50ml vegetable oil, 1 red pepper, seeds removed, roughly chopped, 1 yellow pepper, seeds removed, roughly chopped, 1 orange pepper, seeds removed, roughly chopped, 4 sticks of celery, trimmed and roughly chopped, 2 sprigs thyme, 2 bay leaves, 25g butter, 30g plain flour, 250ml vegetable, chicken or fish stock, 400g tin chopped tomatoes, 300g okra, trimmed and cut into 3cm pieces and fresh coriander, to serve.
For the okra fries: vegetable oil, for deep-frying frying, 1 free-range egg white, 150g rice flour, 200g okra, trimmed and sliced in quarters lengthways
salt.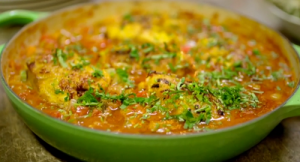 See recipes by Nadiya in her book titled : Nadiya's Family Favourites: Easy, beautiful and show-stopping recipes for every day
aiavilabe from Amazon
now.