Joseph Denison-Carey served up his ultimate leftover turkey sandwich with a raw Brussels sprout slaw for the festive season on This Morning.
The ingredients are: 50g pancetta lardons.
For the bread: Knob of butter and 2x slices thick white sliced bread.
For the turkey filling: Handful of cooked and shredded turkey leg, 1 tbsp mayonnaise and Salt and pepper.
For the sprout slaw dressing: 1 tsp Dijon mustard , 1 tbsp of white wine vinegar , 2 tbsp olive oil , Salt and pepper , 1-2 tsp Parmesan, grated , 5 raw Brussels sprouts, finely shredded and Cranberry sauce, to spread.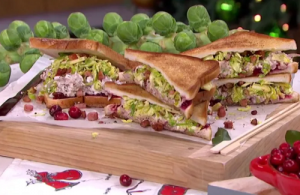 See more leftover turkey recipes in the book titled: Leftover Christmas Turkey Cookbook: Turkey Pot Pie, Turkey Sandwich and Other Recipes for Leftover Holiday Turkey (Christmas Cookbook)
available from Amazon
now.