Lisa Faulkner and John Torode served up a delicious chocolate and coconut pie with digestive biscuits and chocolate custard on John and Lisa's Weekend Kitchen.
The ingredients are: 350g digestive biscuits, 25g desiccated coconut, 120g melted butter, 180ml milk, 600ml double cream, 200g milk chocolate, 200g dark chocolate, 100g soft brown sugar, 150mls coconut liqueur, 40g cornflour, 4 egg yolks, 30g desiccated coconut, 2 tbsp icing sugar, Splash of vanilla extract and Coconut flakes.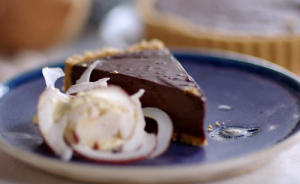 see recipes from Lisa in her book titled: Tea and Cake with Lisa Faulkner
available from Amazon
now.