Theo Michaels served up a tasty Greek seafood souvlaki with apricot glaze and chicken souvlaki with flatbreads and tzatziki on This Morning.
The ingredients for the apricot glaze are: 6 heaped tbsp apricot conserve, Zest + juice ½ lemon, ½ a clove crushed garlic (or a whole clove if small), 1 inch grated ginger, 2 tbsp chopped dill, 1 tbsp olive oil, Salt and pepper and pinch chilli flakes.
For the seafood Souvlaki: 100g skinned cod loin, cut into bite size chunks, 100g skinned salmon, cut into same size chunks, 12 king prawns (the bigger the better!), peeled, 12 bay leaves to thread between the fish and Wooden skewers (no need to soak).
Chicken Souvlaki:
For the traditional Greek Marinade: 60ml olive oil, 2 tbsp dried oregano, Salt and freshly ground black pepper, Zest 1 lemon, 1 tsp smoked paprika and 300g chicken breast, cut into bitesize cubed.
For the Flatbreads: 2 cups self raising flour, 1 cup whole milk and 1 tbsp olive oil, pinch of salt.
For the Simple Tzatziki: 1 cup Greek yoghurt, ¼ cucumber, grated, juice squeezed out, 5g chopped mint, Generous pinch salt and 2 tbsp extra virgin olive oil.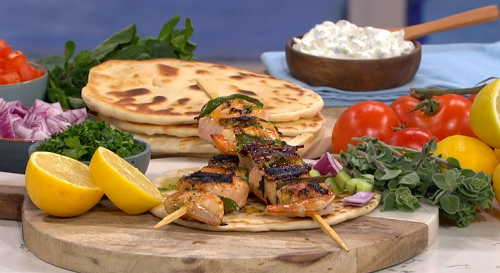 See Theo's recipes in his book titled: Orexi! Feasting at the modern Greek Table
available from Amazon
now.