James Martin serves up delicious looking baked ginger parkin with rhubarb inspired by his grandmother's recipe on today's episode of James Martin: Home Comforts.
James says: "There are a few elements to this recipe but every one of them would benefit from being prepared in advance so it's a great one for feeding a crowd."
The ingredients for making the parkin are: 170g self-raising flour, pinch salt, 2 tbsp ground ginger, 1 tsp freshly grated nutmeg, 1 tsp ground mixed spice, 120g oat flakes, 250ml golden syrup, 75ml black treacle, 150g unsalted butter, 150g soft dark brown sugar, 2 medium free-range eggs, 25ml milk.
For the roasted rhubarb: 4 sticks fresh rhubarb, cut into 5cm/2in lengths, sugar, to taste and splash water.
For the syrup: 200ml golden syrup, 100ml apple juice and 1 tsp ground mixed spice.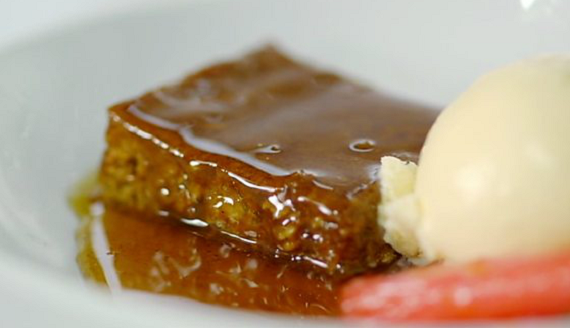 See how the baked ginger parkin with rhubarb by James Martin inspired my his grandmother's recipe is made in this video: