John Torode and Lisa Faulkner served up tasty grilled prawns with herb mayonnaise (sauce vert) on John and Lisa's Weekend Kitchen.
The ingredients are: Raw King Prawns (allow 1-2 per person) in the shell, split lengthwise, deveined and opened out, 2 tsp olive oil, Salt and freshly ground black pepper, 90g/3oz/6 tbsp butter and 1/2 a lemon.
For the sauce vert: 50g Spinach (blanched), 50g Watercress (blanched), 50g Flat Parsley, 1 Small Bunch Tarragon, 2 Stems Basil, 1 clove garlic, 350g Mayonnaise, 1/2 a lemon and Splash of cream.
To serve: 1 lemon, quartered.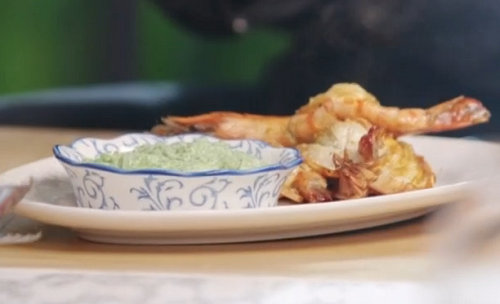 See John's recipes in his book titled: My Kind of Food: Recipes I Love to Cook at Home
available from Amazon
now.