It is DIY kebab for Jimmy Doherty as he cooks his kebab on a cooker made out of an oil drum.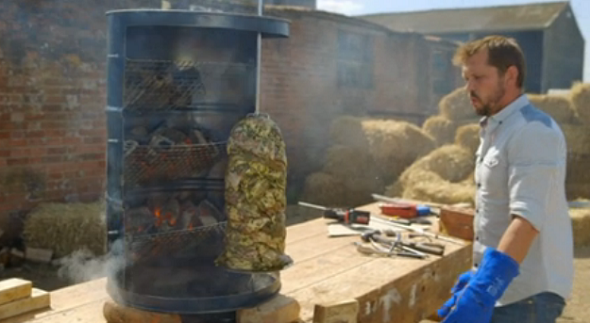 Jimmy cleans out the drum then cuts out a portion of it with an angle grinder so he can turn it up right and insert shelves made out of metal mesh. He then cuts a hole in the top and bottom where he inserts his metal skewer.
Jimmy fills his drum shelves with coal before lighting them to cook the lamb meat for his kebab.
For his meat, Jimmy used a shoulder of lamb for the extra flavour that this cut of meat delivers and mixed it with breast of lamb to achieve layers. He marinates the meat with a mixture of lemon, onions and herbs to help the meat remain tender and juicy before cooking.
Once cooked, Jimmy takes the kebab back to the cafe where his old buddy Jamie is on hand to help prepare a kebab feast for the dinners.