Amanda Holden is guest of honour in Jaime's and Jimmy's café on the peer, in today's Jamie and Jimmy's Friday Night Feast.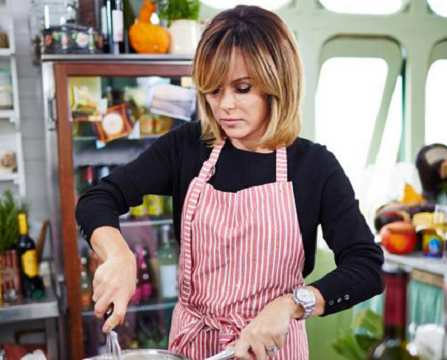 The Britain's Got Talent judge helped Jamie to prepare a tasty vegetarian moussaka dish that both veggies and non-veggies would enjoy.
Jamie says "I've taken this classic Greek recipe, usually made with lamb, and transformed it into a veggie delight for the lovely Amanda Holden – this dish is one of her favourite foodie memories from her childhood and it's pretty damn good!"
Jamie's ingredients for the dish consists of: dried porcini, onions, garlic, olive oil, rosemary, sage, dried oregano, red wine, chickpeas, dried brown lentils, fresh bay leaves, plum tomatoes, sea salt, freshly ground black pepper, aubergines, potatoes, semi-skimmed milk, black peppercorns, unsalted butter, plain flour, feta cheese, pecorino cheese and free-range egg yolks.