Nigel Slater served up a tasty fattoush Middle Eastern salad with crisp olive pita bread on Nigel Slater's Middle East. The recipe was inspired by the fresh and vibrant flavours and ingredients that Nigel tasted on a visit to Lebanon.
The ingredients are: 2 small cucumbers, 450g cherry tomatoes, quartered, 200g radishes, quartered, 1 small baby gem lettuce, roughly chopped, 4 spring onions, roughly chopped, 50g flatleaf parsley leaves, 10g small mint leaves, 9 tbsp olive oil, 1 pitta bread, 2 tbsp pomegranate molasses and 1 tbsp sumac.
For the olive paste: 12 stoned green olives, 25g finely chopped flatleaf parsley, 100ml olive oil and ½ lemon, juice only.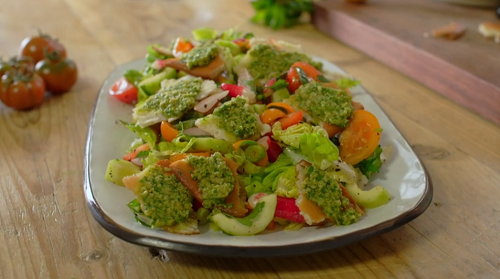 See more recipes by Nigel slater in his book titled: The 30-Minute Cook
available from Amazon
now.