This week Jamie and Jimmy visits Lancashire to revive an old recipe for the humble tosset cake.
Since the 14th century the tosset cake was a prized Lancashire treat, full of butter, sugar and spices but it has not been manufactured since the First World War when butter and sugar were rationed.
[imagebrowser id=57]
However, on today's show Jamie and Jimmy were seen visiting Parrox Hall in Lancashire, where Jamie revived this vintage recipe at the request of the Lord of the manner, Harold Elletson.
To make his cake, Jamie sieves 500g flour and 150g sugar into a large bowl, then rubbed in 500g butter. He then lightly crushed 1 heaped teaspoon of caraway seeds and 1 heaped teaspoon of coriander seeds in a pestle and mortar, then added them to the bowl.
He stirs the mixture so it comes together to form a dough, bringing it together to make a ball, then warped in cling film and placed in the fridge to rest for around 1 hour.
Once rested he rolls out the dough on a flour-dusted surface to roughly ½cm thick, then stamped out circles with a pastry cutter.
He places the dough circles onto a flour-dusted baking tray and sprinkled with a little sugar.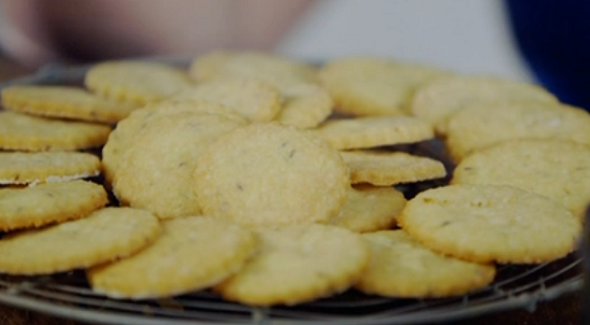 Jamie then bakes them in a preheated oven for 10 to 15 minutes at 180C. Once baked, he allows them to cool before dusting with icing sugar.
Jamie says "The tosset biscuit is an elite digestive biscuit. It is the ultimate tea and biscuit biscuit. They are so light, so delicious and such a pleasure to make."
These biscuits were baked for centuries before the war as the main event at the Tosset Feast Event at Parrox Hall.