Today on Let's do Christmas with Gino and Mel, Gino served up a delicious fish soup for the festive period, but it would grace any dinner table any time of year.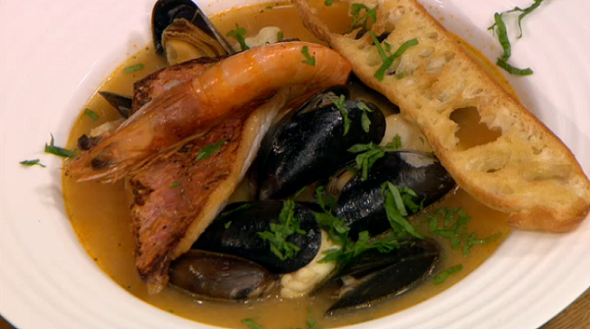 To make his fish soup, Gino use a carrot, 2 Spanish onions, 1 stalk celery, ½ bulb fennel, two tbsp tomato purée, six tomatoes, 1kg fish bones and skin, prawn heads, a dried bay leaf, 3 fresh parsley stalks, a sprig of thyme, a pinch of saffron and a pinch of cayenne pepper.
To make the crouton, Gino used crusty bread, half inch thick slices, a drizzle of olive oil and 2 garlic cloves, cut in half.
To make the fish soup base, Gino heats a large pan with some olive oil and gently sauté the vegetables. Once they are soft he adds the saffron, tomato and tomato purée and allowed to cook for 5 minutes.
He then puts the rest of the ingredients into the pan and covered with water and cooked for 30 minutes.
He leaves the base to cool and freeze (Gino says this can be done up to two weeks before you want to use it).
To finish the soup, he defrosts the soup base in a large pot, add 250ml of water and bring to a simmer. He stirs in the 2 tbsp pastis liqueur and checked the seasoning.
He then placed the thickly sliced fish (1.4kg assorted fish, choose from red mullet, prawns, sea bass, monkfish, cod or haddock) and one pint of prepared mussels in the pot and poach them all for 3-5 minutes until tender and just cooked through. The mussel should be open and the fish should be opaque and cooked through.
Meanwhile he makes the crostini by preheating the oven to 220°C and sprinkled slices of French bread with olive oil and baked in the oven for 5 minutes or until dry.
Once the fish is cooked, he removed it from the heat and place into the serving bowls. He pours the soup around the fish and place the crouton on top.