Mary's Tunis cake on The Great British Bake off Christmas Special looks absolutely delicious and it is a wonderful recipe that leaves you with a moist, lemony sponge topped with chocolate ganache and marzipan decorations.
It is a perfect Christmas treat that is a good alternative to traditional Christmas cake.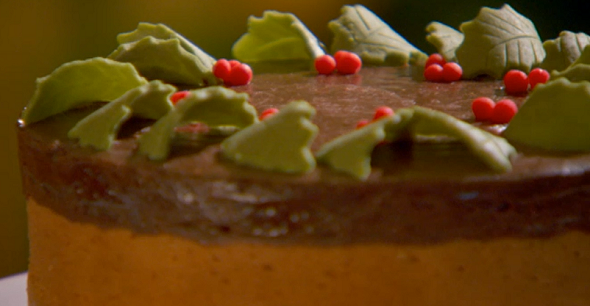 To make her cake, Mary adds 225g butter, 225g sugar, 225 self-saising flour, 70g ground almonds, 4 large eggs and 1 lemon zest to a mixer bowl.
She beats on high speed for a minute. Then spooned the batter into a prepared cake tin and levelled the surface with a palette knife or spatula.
She then bakes for 45 minutes, then covered with foil to prevent the top from browning and cooked for a further 15 minutes until cooked.
She removes it from the oven and leaves to cool completely in the tin.
For the topping, Mary pours the cream into a small pan and brings almost to the boil. She then removes it from the heat, before adding chocolate and stirred until melted.
Once cooled, she pours the chocolate mixture in an even coat over the cooled cake and put aside to set.
To decorate, she coloured 175g of the marzipan with green food colouring to turn it the colour of holly leaves. Using a holly leaf shaped cutter, she cuts out 20 holly leaves and marks the veins with a knife, then laid over a rolling pin and left to dry.
Mary colours the remaining marzipan with the red food colouring and rolled into 30 'holly berry' size balls before leaving to dry.
To serve, she removes the cake from the tin and carefully peeled off the parchment paper so that she got a clean line between the cake and the chocolate layer.
Finally she arranges the holly leaves and berries in a wreath around the edge of the cake.
This cake is a wonderful treat at any time of the year.
[imagebrowser id=42]