Fiona Cairns joins Paul in his kitchen on today's Paul Hollywood Pies and Puds, to show the master baker how she makes one of her gorgeous French bakes.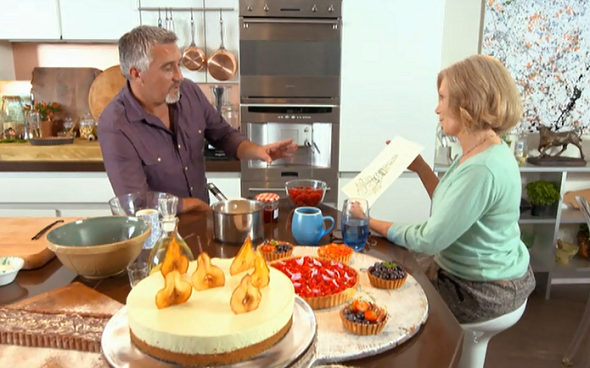 Fiona Cairns is a luxury cake maker and designer who was responsible for baking the most famous wedding cake in recent years, that of Prince William and Kate Middleton in April 2011.
Fiona set up her baking business over 25 years ago, after making a batch of miniature fruit cakes for friends one Christmas. Trained as both a graphic designer and a pastry chef, Fiona developed a reputation for making beautiful and delicious cakes.
Fiona bakes a raspberry flan fit for a prince or princess.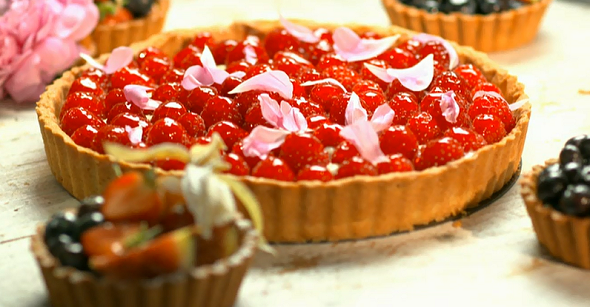 Fiona starts by making the pastry cream filling. To do this she use double cream and adds a vanilla pod. She then adds 4 egg yolks and caster sugar and mixed together before adding plain flour to thicken.
She then pours in the cream mixture slowly, ensuring that the eggs do not scramble. She removes the vanilla pod and cooks the mixture for a few minutes to ensure the flour is cooked and the mixture formed into custard. It is then left to cool before transferring to the fridge to be nice and cold.
Once cold, she removes it from the fridge and adds whipped cream. Fiona then fills the pastry base with the cold mixture and spreads evenly.
She then adds fresh raspberries to completely cover the top of the tart, then spooned over red current glaze with rose water and sprinkled with rose petals for decorations.